Gala for the 50th anniversary "Mindener Stichlinge"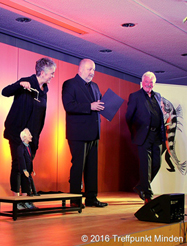 Germany's oldest amateur cabaret, the 'Mindener Stichlinge',came up with something special for their golden wedding. Together with former and current actors they made it an unforgettable evening for their fans, friends and companions – one of them the former Federal Minister of Justice Sabine Leutheusser-Schnarrenberger.

The 'Stichlinge' honored their longtime director Birger Hausmann with a portrait puppet of the Marionettenwerkstatt.
We have been invited and asked to hand over the marionette personally.
Thanks for the great evening – all the best for the next 50 years!
All images with the kind support of
Bernd Horstmann, Treffpunkt Minden