Regional TV reports on "Lokalzeit" from the Breite Straße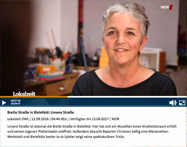 Our Street (Unsere Straße) of WDR's Lokalzeit visited Beielefeld's to introduce three extraordinary shops, one of them the MarionettenWerkstatt.

And suddenly they were there: Reporter Christian Saftig and his recording team. Due to a nice team and an easy conversation it became a wonderful little report with Gabi Dellinger and her lovely neigbors.